Warranty / Guarantee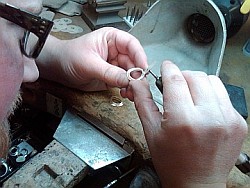 Parlé jewelry designs are guaranteed to be hand-made using the finest materials. Each design bears our registered Trademarks Parlé or IOG. These Trademarks guarantee the metal content as stamped next to the trademark, and that this item is of our manufacture.
Our product is unconditionally guaranteed for repair or replacement, without charge, should breakage occur due to defective craftmanship. Breakage due to accidental damage or wear will be subject to appropriate materials and labor charges. Authorization for repair may be obtained by contacting your original place of purchase.
Care for your jewelry by avoiding sharp blows and harsh chemicals. Most designs may be safely cleaned using mild soap or a soft cloth. Do not expose opals, opal inlay or doublets to ultrasonic cleaners. Prolonged exposure to water and/or steam should be avoided.
If you have any question, contact a jeweler.
Find a jeweler in your area in our Jeweler Locator.